TV Guide Magazine Has Info About "Odyssey"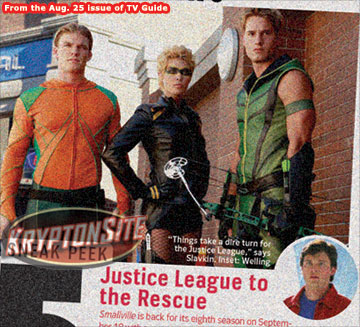 Justice League to the rescue
Smallville is back for its eighth season on September 18 with a superpowered opener. With Clark (
Tom Welling
) still missing after his showdown with Lex in May's season finale, it's up to the Justice League to save the day. Aquaman(Alan Ritchson), Black Canary(Alania Huffman) and Green Arrow(Justin Hartley)track down the Man of Steel at a shady Russian work camp, where Clark is powerless. "The Justice League will never be the same, and Clark Kent will never be the same,"says Exec Producer Todd Slavkin. "The preimere pushes us into areas we've never explored before, mainly Clark's destiny."
thanks to ksite for the scan